"Yes" on Sensible Spending, "No" on Illiana
The Northwest Indiana Regional Planning Commission, or NIRPC, is set to vote on the proposed 47-mile highway in December. CMAP voted a close, 11-8 "yea" vote last week, with IDOT and Illinois Governor Pat Quinn pushing for the project as an economic development engine that will supposedly generate $4 billion in economic product.
The project's controversy has focused on the dubious projections of job creation, expropriation of suburban residents and adjoining farmland, and IDOT's failed leadership and baffling display of regressive thinking. Hoosier voices are largely absent from many of these dialogues as Lake County is slightly smaller than Will County, much smaller than Cook County, and Indiana Governor and deficit hawk Mike Pence and the weak leadership of Lake County can't hope to contend with the booming sounds of Governor Pat Quinn and IDOT representatives.
I'm not terribly interested in adding editorial commentary about what may or may not happen as a result of the project– Chicago Streetsblog has given excellent coverage to the matter– so much as I'd like to point out the disparities in infrastructure funding within the region: There are the inevitable and unfortunate truths of Chicago's crumbling infrastructure (streets with decades of deferred maintenance and an El system that is slow, low-tech, and noisy), which is separate from the issue of regional development, but there are also the budget issues of NICTD and Metra, which I'm viewing as partner entities in regional infrastructure in spite of their differences in size.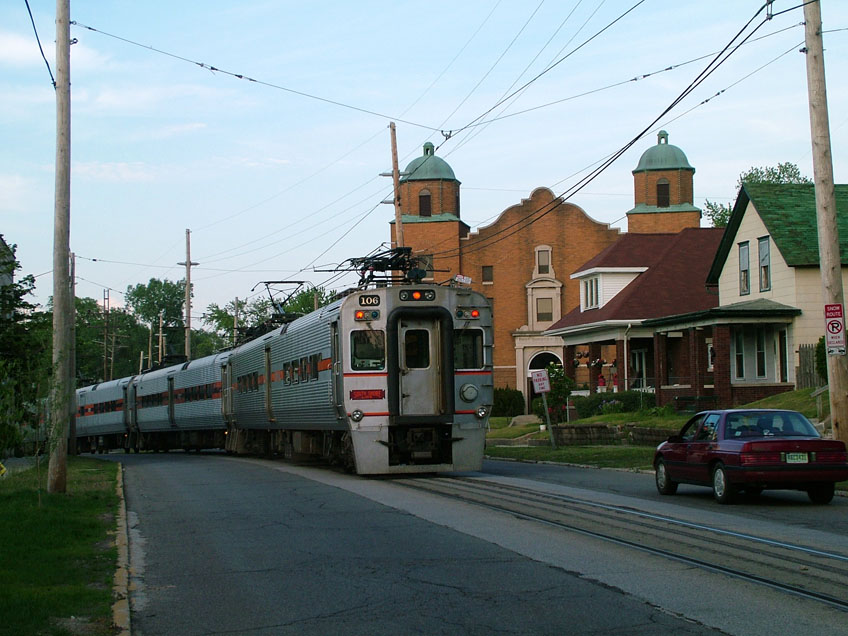 Illiana's budget at the low projection of $1.3 billion could cover four years of Metra's budget plus decades of NICTD's comparatively tiny budget. Metra could probably do with some new funding, if only to replace those witty if not twenty year old billboards on the Kennedy and the Ryan. The latter, also known as the South Shore Line after the freight tracks it runs on, connects Chicago and South Bend with reliable but comparatively infrequent service. It is a comfortable alternative to the Indiana Toll Road and the heavy toll of the Skyway, but unable to gain market share against a relatively low-traffic thoroughfare (and inexpensive at low tolls of only pennies per exit until you hit the state line), NICTD is behind the times and the funding priorities reflect that.
A Gary economic development plan that was supposed to be in RFP stages this summer envisioned transit-oriented development comprising a grocery store and a high-rise residential development at the Miller station, something that would be a boon to the dilapidated front door of that community and to the commuter line itself as it struggles to keep revenues in pace with growing expenses. The Miller stop draws many non-Gary residents to the station as it easily serves Lake County, Merrillville, and Hobart as well as Gary's eastern portions. Meanwhile, a study proposed in enacted Indiana house bill 1450 by a Munster Democrat, Mara Candelaria Reardon, has not resulted in the proposed expansion of the South Shore line into southern Lake County where the Illiana Expressway would cut through. A call to the representative's office to inquire about the status of the proposal was not returned.
Meanwhile, in other infrastructure news, the completion of Illiana may well be the nail in the coffin of Gary-Chicago International, as it would provide a front-door highway intersection to Peotone, where Chicago's dubiously-named "third airport" is. It's clear enough that the Illinois' contingent is stronger than the Indiana contingent in the project since, although we technically do live in a tri-state metropolitan area, the needs of Will and Cook Counties are often prioritized over that hinterland of Indiana.
Let's also get beyond the notion of "infrastructure pour le infrastructure" and think about long-term effects. To those unfamiliar with the background, proponents believe that the Expressway will take a load off the Borman to the north and expedite travel between I-55, I-57, and I-65, thereby streamlining transportation in the freight-heavy infrastructure of the southern part of the Chicago suburbs. An extensive intermodal network combines with the flow of oil and steel to create a heavy demand on transit infrastructure. But given the weak public transit infrastructure combined with a pretty efficient freight rail infrastructure, I have a hard time believing that Illiana has as much to do with traffic mitigation as it does with creating sprawl and encouraging real estate development in what I'll call The Next Cook County, Chicago's neighbor to the south.
The demographics speak for themselves: Will County went from a relatively insignificant population center as a satellite community of Chicago in the 1920's centered around Joliet to the booming sprawl-fest it is today. Visitors to Chicago may know it by the spires of the ExxonMobil refinery on the east side of 55 near Channahon, or the Joliet stop on the Amtrak.
Since 1950, Will County has averaged a growth rate of nearly 29%, more than triple that of Cook County and more than five times that of Chicago. As Chicago struggles, Will County grows at a breakneck pace, enjoying the benefits of the Chicago market without being mired in its debt-laden political machine. But comparing population growth numbers to other counties, it's clear that this is really more of an Illinois vs. Indiana matter.
Faced with dubious job creation numbers and an Illinois machine with a vested interest in promoting the interests of Peotone, Will County sprawl generating tax revenue for a state with a looming fiscal disaster, an up to $1 billion taxpayer-funded deficit even with toll collection, and the prospects of eclipsing important infrastructure improvements for sustainable infrastructure, let NIRPC know that you vote "no" on the Illiana Expressway.